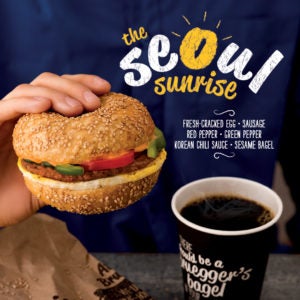 Bruegger's Bagels, known for its authentic, New York-style bagels, signature egg sandwiches and artisanal coffees, launches a new spring menu that spices up breakfast and lunch with a trending Korean flavor, and brings back seasonal favorites for a limited time.
The all-new Seoul Sunrise Egg Sandwich starts with a fresh-cracked egg, savory pork sausage, red and green peppers and Korean chili sauce, made from mayo and a spicy Korean condiment known as gochujang, on a Sesame bagel. Gochujang, a chili paste, is being hailed as "the next Sriracha" for its recent and rapid rise on U.S. menus.
The Korean chili sauce also adds its unique flavor to the Touch of Seoul Sandwich, made with ham, Swiss, sliced cucumbers and red peppers on butter-toasted sourdough bread.
Returning favorites include Sea Salt & Caramel Coffee, available hot or iced, and cool yet zesty made-in-Vermont Cucumber Dill cream cheese, which pairs perfectly with the spring fan favorite Ranch bagel, loaded with all the flavors of ranch dressing.
"We continually seek to bring on-trend new flavors to our limited-time menus so our guests always have interesting options to explore," said Vice President of Marketing Judy Kadylak. "Our new Korean chili sauce adds a unique Asian twist, while annual favorites like Cucumber Dill cream cheese offer a taste of springtime."
The spring menu will be available at participating Bruegger's Bagels locations through June 13.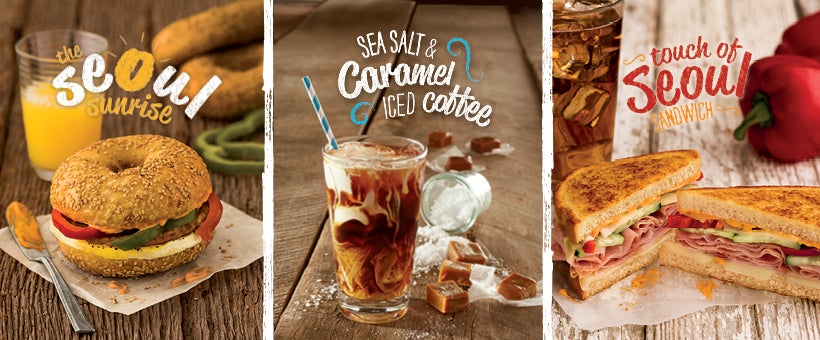 About Bruegger's Enterprises, Inc.
Bruegger's Enterprises, Inc. (BEI), a leader in the fast casual restaurant segment, operates 275+ Bruegger's Bagels bakeries in North America. Renowned for its authentic fresh-baked bagels, the chain also offers a wide variety of freshly prepared breakfast and lunch options made with high-quality, simple ingredients served with its unique brand of hospitality. Bruegger's Bagels is dedicated to the communities it serves and supports charitable causes locally and nationally. BEI's parent company, Groupe Le Duff, SA, is the world's second-largest company in the bakery-cafe sector. Founded in 1983, BEI is headquartered in Dallas. For more information, visit https://www.brueggers.com/, follow Bruegger's Bagels on Facebook, Twitter, Instagram and Pinterest, and sign up for the eClub to receive news and special offers.

Back to main