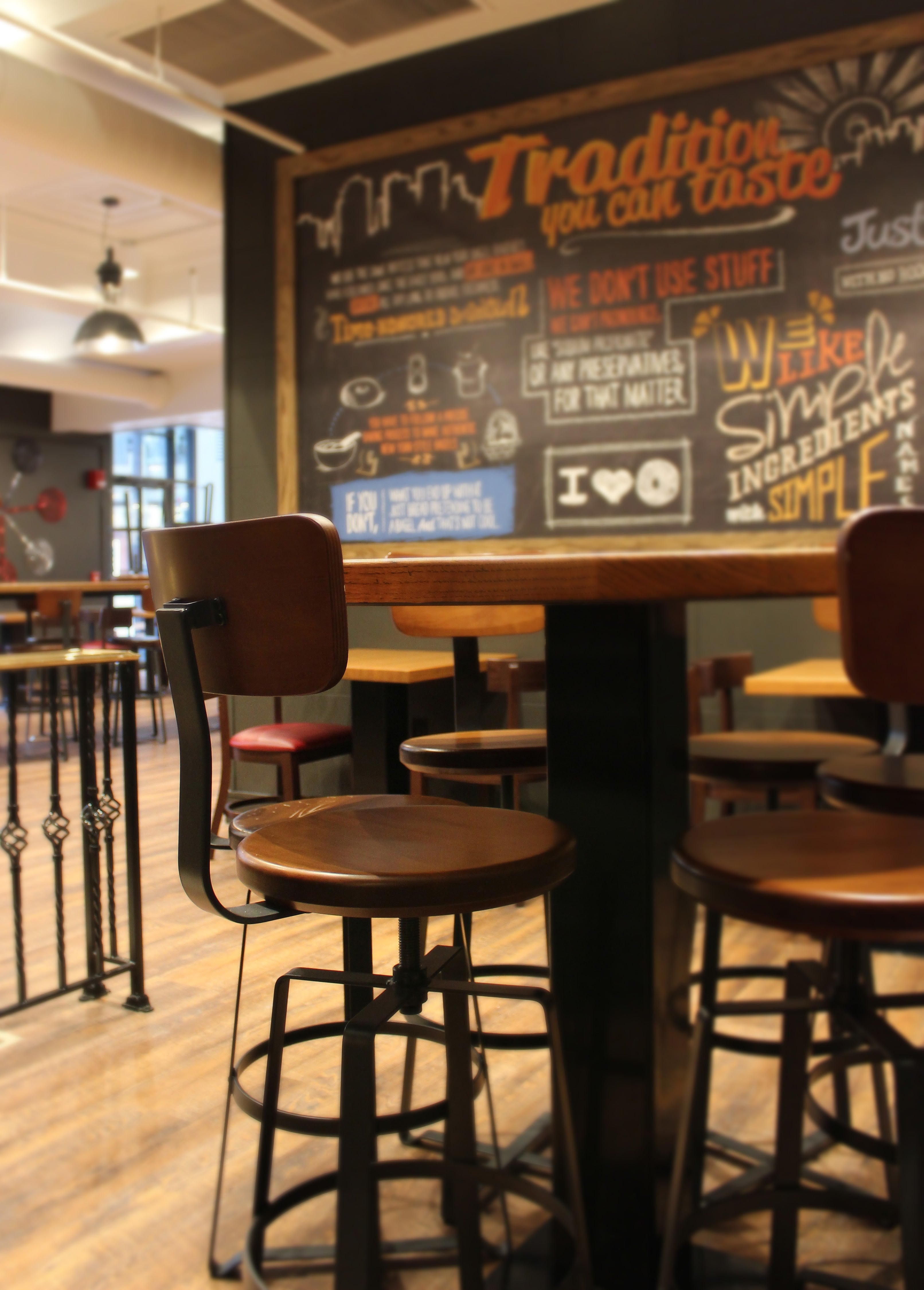 Bruegger's Bagels is a proven concept. We have been opening bakeries since 1983, with over 260 in operation today. We plan to open more in great sites every year, in both new and existing markets, developing both corporate and franchise bakeries, depending upon the market.
Our current landlords view us as an ideal tenant because we offer:
A destination food service concept
An alcohol-free menu
Off-peak parking
A grease-free environment
Products are baked, not fried, and contain no shortening
Limited hours
High sales per square foot
Prospective sites
Bruegger's Bagels succeeds in a variety of locations such as downtown areas, strip centers, shopping centers, college towns, airports, and traditional drive-to, quick-service locations. We believe any site where educated, sophisticated consumers can be found has potential to be a successful Bruegger's Bagels.
Tenant Requirements
Utilities: 400 amp; 1.5″ water line; 4″ sewer line; Gas Supply Line to provide minimum pressure of 890,000 BTUs
HVAC: 1 ton/130 sq. ft. (15 ton minimum), Complete system including duct work
Square Footage
A wide range, but often 1,800-2,200 square feet
Demographics
Preferred trade area demographics and business characteristics generally consist of:
Total population greater than 20,000 within 2 miles
Median household income greater than $50,000
Highly educated population, with a good percentage of Bachelor's and Master's degrees
High percentage of white collar workers
High daytime population
Visibility & Access
We are a morning, lunchtime and weekend eatery. The optimal location is highly visible and easily accessible to pedestrian and vehicular traffic. The larger the storefront and larger the signage, the better. We prefer to be located on the inbound morning commuter side. Convenient customer parking is key in suburban areas.
Trade Area Activity
We prefer to locate in busy areas with a healthy concentration of community-focused, "daily use" shopping such as post offices, dry cleaners, drug stores and banks. Preferred co-tenants include high-end grocery stores (e.g. Whole Foods), upscale coffee shops (e.g. Starbucks, Caribou), popular apparel, home furnishings, and bookstores. It is also beneficial to have a high concentration of white collar offices, hospitals, and universities nearby.
Inquiries
For more information, or to submit a location for consideration, please email us.