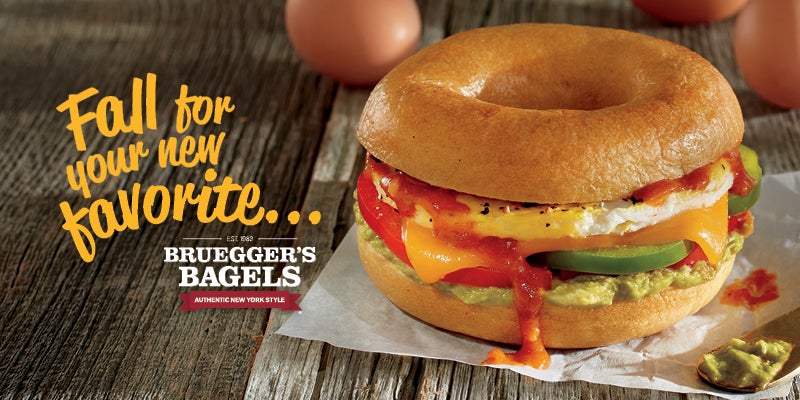 Debuting in Bruegger's Bagels' new fall menu line-up is the Masa Bagel, a corn-based bagel with a flavor reminiscent of tortillas and tamales. The Masa Bagel perfectly complements the new Southwest Sunrise egg sandwich featuring spicy guacamole, ranchero sauce, red peppers and green peppers. Guests can enjoy any sandwich on the new bagel or try it with their choice of Bruegger's Bagels' 100 percent made-in-Vermont cream cheese flavors.
The fall taste of crisp apple cider coleslaw is a highlight in the new Pastrami & Swiss Melt, a deli classic with a Bruegger's Bagels twist, featuring pastrami, Swiss, slaw and spicy brown mustard grilled on rye.
And it isn't autumn at Bruegger's Bagels without the classic taste of pumpkin, returning in three fan favorites, including Pumpkin Bagels and Pumpkin Cream Cheese, both made with real pumpkin, as well as Pumpkin Spice Coffee, with hints of cinnamon and nutmeg spices. The Cranberry Orange Bagel brings back even more seasonal flavor – a little sweet, a little tart.
"Each fall we like to bring back guest favorites like our popular pumpkin items, while adding something unexpected like the Masa Bagel, which is a tasty twist on the classic bagel," said Bruegger's Bagels Vice President of Marketing Judy Kadylak. "All the new and returning items make for a great mix of flavors that guests can enjoy throughout the season."
About Bruegger's Bagels
Bruegger's Enterprises, Inc. (BEI), a leader in the fast casual restaurant segment, operates 290 Bruegger's Bagels bakeries in North America. Renowned for its authentic New York style fresh-baked bagels, the chain also offers a wide variety of freshly prepared breakfast and lunch options made with high-quality, simple ingredients served with its unique brand of hospitality. Bruegger's Bagels is dedicated to the communities it serves and supports charitable causes locally and nationally. BEI's parent company, Groupe Le Duff, SA, is the world's second-largest company in the bakery-cafe sector. Founded in 1983, BEI is headquartered in Dallas. For more information, visit https://www.brueggers.com/, follow Bruegger's on Facebook, Twitter, Instagram and Pinterest, and click here to sign up for the eClub to receive news and special offers.
Media Contact:
Jeannine Brew/Ann Hinshaw
SPM Communications
214-379-7000
jeannine@spmcommunications.com /ann@spmcommunications.com

Back to main