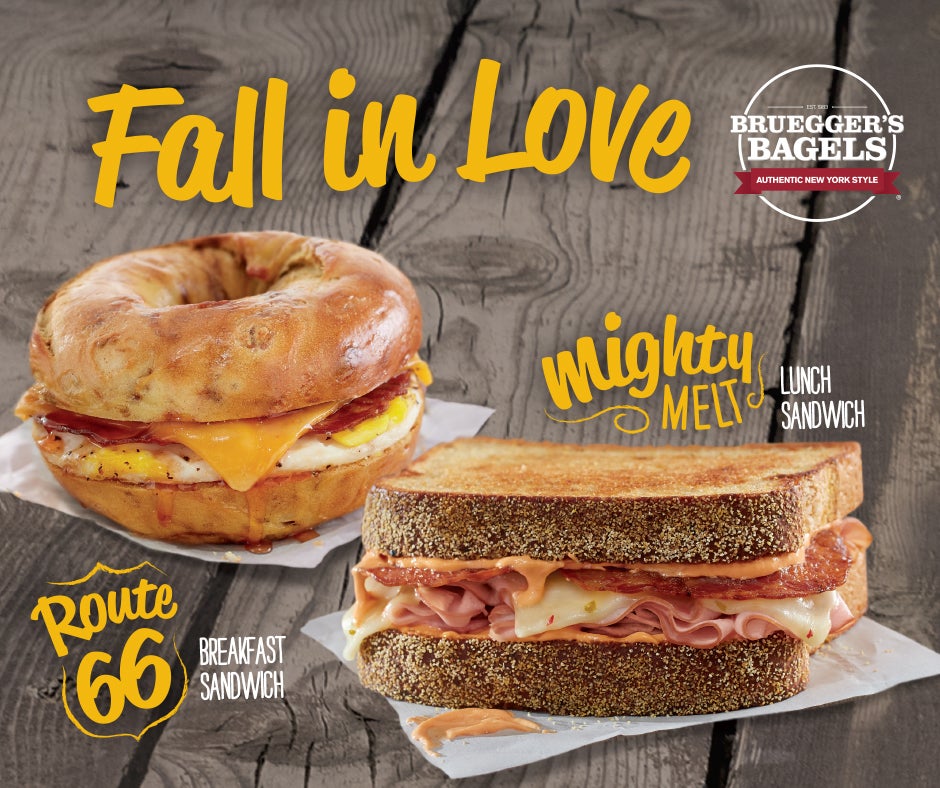 The 2,500-mile stretch of road from Chicago to Los Angeles, the famous Route 66, is the inspiration for Bruegger's Bagels' new fall menu, featuring items reminiscent of a small-town roadside diner breakfast or lunch, with a unique, craveable, Bruegger's Bagels twist.
The Route 66, with all the flavors of a classic American breakfast, starts with a fresh-cracked egg and piles on hickory-smoked bacon, cheddar cheese and spicy Sriracha maple syrup, all served up on a new French Toast Bagel, with hints of cinnamon, maple, nutmeg and vanilla.
The classic combo of bacon, ham and melted cheese is at the heart of the Mighty Melt, featuring new hickory-smoked bacon, hardwood-smoked ham and pepper jack cheese with a kick of Sriracha mayo on butter-toasted jalapeno cornbread.
"Fall is a nostalgic time of the year, starting with early school days and ending in the holiday season, and we wanted to bring fond memories to our menu with a trip down Route 66," said Vice President of Marketing Judy Kadylak. "We combine those classic diner flavors with our authentic New York-style bagels to create savory breakfast and lunch items our guests are sure to love."
New bagels this season, in addition to the French Toast Bagel, include the returning Pumpkin Bagel, with its autumnal flavors and aromas of cinnamon, nutmeg, ginger and allspice. Guests will have to wait until after Thanksgiving for the Orange Cranberry Bagel, with sweet orange and tart cranberry that evoke memories of holiday-season classics.
Bruegger's Bagels will complete the seasonal theme by bringing back its Pumpkin Spice Coffee. The fall menu will be available through Jan. 4, 2017, at participating Bruegger's Bagels locations.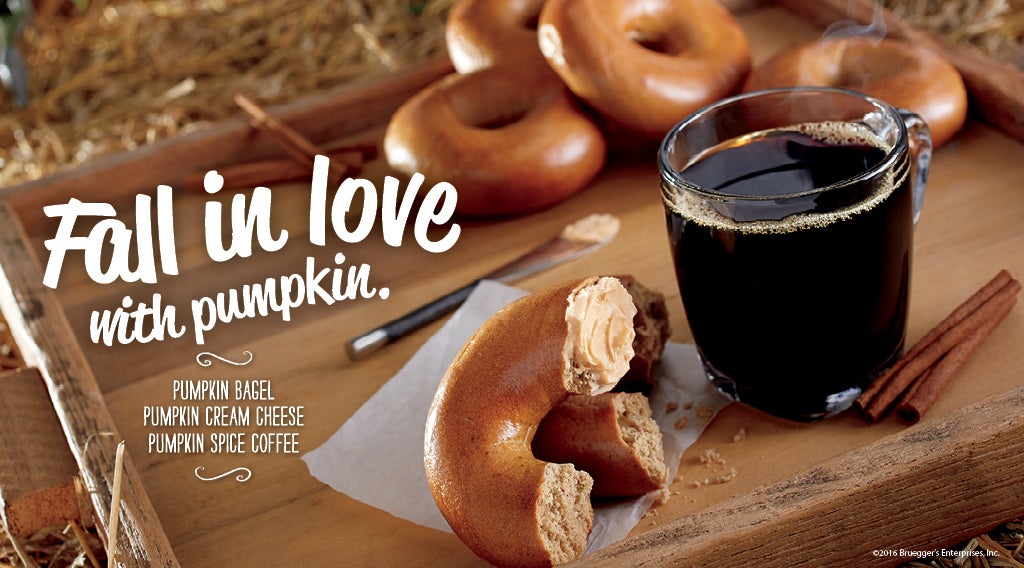 About Bruegger's Enterprises, Inc.
Bruegger's Enterprises, Inc. (BEI), a leader in the fast-casual restaurant segment, operates 290 Bruegger's Bagels bakeries in North America. Renowned for its authentic fresh-baked bagels, the chain also offers a wide variety of freshly prepared breakfast and lunch options made with high-quality, simple ingredients served with its unique brand of hospitality. Bruegger's Bagels is dedicated to the communities it serves and supports charitable causes locally and nationally. BEI's parent company, Groupe Le Duff, SA, is the world's second-largest company in the bakery-cafe sector. Founded in 1983, BEI is headquartered in Dallas. For more information, visit https://www.brueggers.com/, follow Bruegger's on Facebook, Twitter, Instagram and Pinterest, and click here to sign up for the eClub to receive news and special offers.
Media Contact:
Sara Hundley or Heather Byrd
24-hour Media Line: 817-329-3257
sh@spmcommunications.com
heather@spmcommunications.com

Back to main