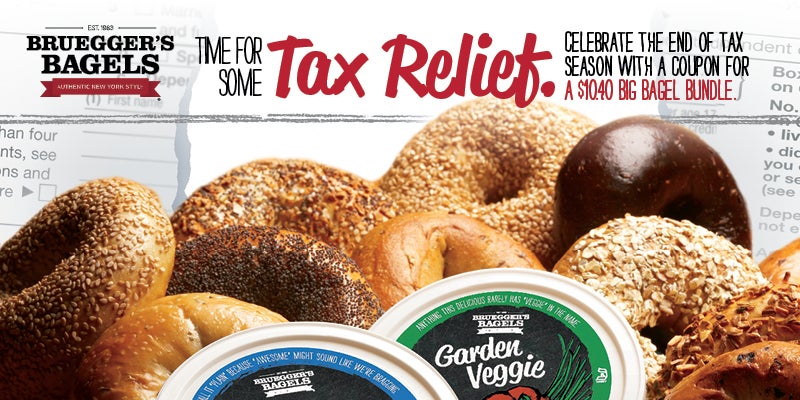 Bruegger's Bagels is once again giving guests its annual Tax Day break on its Big Bagel Bundles. April 15-18, Big Bagel Bundles are just $10.40 – about a $3.50 "deduction" – for those who visit Bruegger's Bagels' website to claim the offer.
Each Big Bagel Bundle includes the guest's choice of any 13 bagels from among Bruegger's Bagels' 15-plus authentic, New York-style bagel varieties, along with any two tubs of 100 percent made-in-Vermont cream cheese flavors. Guests may choose the limited-time Ranch Bagel, featuring the familiar flavors of its namesake dressing including tangy buttermilk, sour cream, dill, garlic, onion and chives. The Ranch Bagel pairs perfectly with the cool cucumber and zesty dill in Cucumber Dill Cream Cheese.
"Almost nobody looks forward to Tax Day, but our guests definitely look forward to our $10.40 Big Bagel Bundle each year," said Bruegger's Bagels Vice President of Marketing Judy Kadylak. "Since the tax deadline is pushed to the 18th this year, we wanted to offer our special deal through the weekend and give folks a break leading up to the dreaded day."
To qualify for the "deduction," guests can download the offer at www.brueggers.com starting April 11. Guests also can join the Bruegger's Bagels eClub to receive a free bagel with cream cheese and other valuable offers throughout the year.
About Bruegger's Enterprises, Inc.
Bruegger's Enterprises, Inc. (BEI), a leader in the fast casual restaurant segment, operates 275-plus Bruegger's Bagels bakeries in North America. Renowned for its authentic New York-style fresh-baked bagels, the chain also offers a wide variety of freshly prepared breakfast and lunch options made with high-quality, simple ingredients served with its unique brand of hospitality. Bruegger's Bagels is dedicated to the communities it serves and supports charitable causes locally and nationally. BEI's parent company, Groupe Le Duff, SA, is the world's second-largest company in the bakery-cafe sector. Founded in 1983, BEI is headquartered in Dallas. For more information, visit https://www.brueggers.com/, follow Bruegger's on Facebook, Twitter, Instagram and Pinterest, and click here to sign up for the eClub to receive news and special offers.
Media Contact:
Sara Hundley or Heather Byrd, SPM Communications
214-379-7000
sh@spmcommunications.com
heather@spmcommunications.com

Back to main