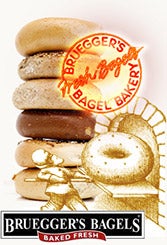 The West Center Drive Bruegger's Bagels in Omaha, NE will bring back bagels and a convenient drive-thru on April 20, 2016. The location had been closed for repairs since the fall, when it was seriously damaged by a car accident.
The re-opened bakery boasts a fresh new look inside and out with updated menu boards, lively colors and fabrics, more seating and an espresso bar featuring Bruegger's Bagels' new premium Rainforest Alliance Certified coffees, seasonal single-origin pour-over coffees, specialty espresso beverages and organic 20-hour cold brew coffee
"After months of repairs and remodeling, we look forward to serving our guests again at our popular West Center Drive location," said Bruegger's Bagels Chief Marketing Officer Judy Kadylak. "We think everyone will enjoy the updated look, additional seating and expanded offerings."
The bakery will offer several new menu items including New York-style coffeecake, Cheesecake Brownies and Greek Yogurt Blueberry Muffins.
On Wednesday April 20, Bruegger's Bagels will celebrate grand opening day with a free bagel with cream cheese or a small specialty espresso or coffee beverage for e-club members. Guests can sign up for the Bruegger's Bagels eClub here.
About Bruegger's Bagels 
Bruegger's Enterprises, Inc. (BEI), a leader in the fast casual restaurant segment, operates 275+ Bruegger's Bagels bakeries in North America. Renowned for its authentic New York-style fresh-baked bagels, the chain also offers a wide variety of freshly prepared breakfast and lunch options made with high-quality, simple ingredients served with its unique brand of hospitality. Bruegger's Bagels is dedicated to the communities it serves and supports charitable causes locally and nationally. BEI's parent company, Groupe Le Duff, SA, is the world's second-largest company in the bakery-cafe sector. Founded in 1983, BEI is headquartered in Dallas. For more information, visit https://www.brueggers.com/, follow Bruegger's on Facebook, Twitter, Instagram and Pinterest, and click here to sign up for the eClub to receive news and special offers.
Media Contact:
Sara Hundley or Heather Byrd
24-hour Media Line: 817-329-3257
sh@spmcommunications.com
heather@spmcommunications.com

Back to main