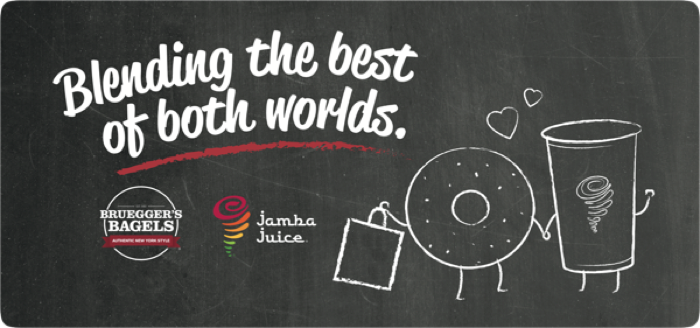 Bruegger's Bagels, known for its authentic New York-style bagels and signature egg sandwiches, and Jamba Juice, a leading better-for-you specialty beverage brand, are joining forces to open nine co-branded stores in the Midwest, East Coast and New England.
The partnership will launch in September to bring the best of both brands together with greater convenience. Guests can enjoy Bruegger's Bagels' fresh-baked bagels, made-in-Vermont cream cheese, premium coffee, sandwiches, soups and salads along with freshly squeezed juices, signature smoothies and protein bowls from Jamba Juice, all under one roof.
"We tested our unique partnership with Jamba Juice last fall at our first co-branded location in Storrs Center, near the University of Connecticut campus, and it was an immediate hit," said Bruegger's Bagels President Paul Carolan. "It became clear that our brands complement each other very well with our mutual focus on freshness and authenticity, and that this partnership offers a way for both brands to extend their reach."
"Our co-branding initiative with Bruegger's Bagels represents a significant phase of our continued commitment to making our great-tasting, better-for-you products more accessible to consumers," said James D. White, chairman, president and CEO of Jamba, Inc. "The combination of Bruegger's Bagels and Jamba Juice will create stronger offerings across all day-parts for consumers of both brands."
The first co-branded location is expected to open in September, with six Bruegger's Bagels bakeries and three Jamba Juice stores to begin the rollout.
About Bruegger's Bagels
Bruegger's Enterprises, Inc. (BEI), a leader in the fast-casual restaurant segment, operates 290 Bruegger's Bagels bakeries in North America. Renowned for its authentic New York style fresh-baked bagels, the chain also offers a wide variety of freshly prepared breakfast and lunch options made with high-quality, simple ingredients served with its unique brand of hospitality. Bruegger's Bagels is dedicated to the communities it serves and supports charitable causes locally and nationally. BEI's parent company, Groupe Le Duff, SA, is the world's second-largest company in the bakery-cafe sector. Founded in 1983, BEI is headquartered in Dallas. For more information, visit https://www.brueggers.com/, follow Bruegger's on Facebook, Twitter, Instagram and Pinterest, and click here to sign up for the eClub to receive news and special offers.
About Jamba Juice
Founded in 1990, Jamba, Inc. is a leading restaurant retailer of better-for-you, specialty beverage and food offerings, which include great tasting, whole fruit smoothies, fresh squeezed juices and juice blends, hot teas, and a variety of food items including hot oatmeal, breakfast wraps, sandwiches, Artisan Flatbreads™, baked goods, and snacks. As of March 31, 2015, there were 805 Jamba® stores system-wide in the United States, of which 546 are franchise-operated stores, and 259 are Company-owned. Jamba is a proud sponsor of "Team Up for a Healthy America" in the fight against childhood obesity and encourages fans to join the Team Up community of celebrities, athletes, and other leaders committed to getting kids active and involved at www.myhealthpledge.com. Fans of Jamba Juice can find out more about Jamba Juice's locations as well as specific offerings and promotions by visiting the Jamba Juice website at www.JambaJuice.com or by contacting Jamba's Guest Services team at 1-866-4R-FRUIT (473-7848).
Media Contacts
For Bruegger's Bagels:
Ann Hinshaw or Jeannine Brew
24-hour Media Line: 817-329-3257
ann@spmcommunications.com
jeannine@spmcommunications.com
For Jamba Juice:
Cindy Coppola
609-432-8099
cindy@finnpartners.com
AlexaRae Antekeier
312-329-3913
alexarae@finnpartners.com

Back to main