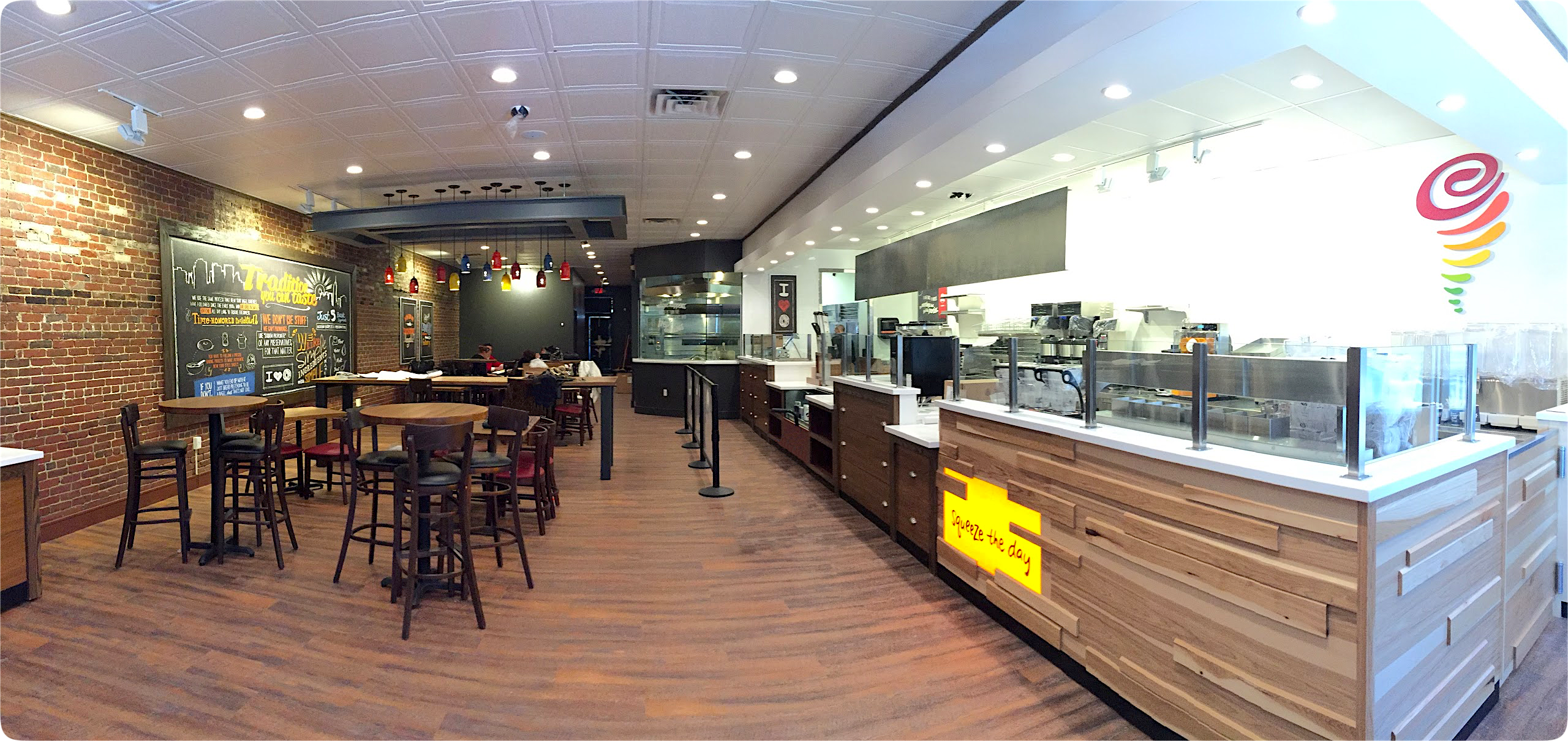 Bruegger's Bagels, known for its authentic New York-style bagels and signature egg sandwiches, and Jamba Juice, a leading better-for-you specialty beverage brand, will open the first of several planned co-branded stores in early March in Melrose, Massachusetts.
The partnership brings two great brands together under one roof. Guests can enjoy fresh-baked Bruegger's Bagels, 100 percent made-in-Vermont cream cheese, sandwiches, soups and salads alongside a great-tasting assortment of Jamba made-to-order smoothies, fresh squeezed juices, and Jamba Energy Bowls, a great-tasting, nutritious snack perfect for any time of the day.
At the new Melrose location, Bruegger's Bagels will debut several new menu items including handcrafted cream cheese and new dessert options such as New York-style coffeecake, cheesecake brownies and Greek yogurt blueberry muffins. New coffee offerings include premium Rainforest Alliance Certified coffees, seasonal single-origin pour-over coffees, specialty espresso beverages and organic 20-hour cold brew coffee.
"We tested the concept near the University of Connecticut campus, and it really demonstrated the power of this partnership," said Bruegger's Bagels President Paul Carolan. "With our Melrose location, we've expanded on what we've learned, adding a new service model and interior design, extended hours of operation, as well as premium menu extensions to enhance the guest experience even further."
"Bruegger's Bagels' loyal following in the Boston area provides a great opportunity for us to introduce Jamba Juice in concert with a local favorite that has been serving the market for more than 30 years," said David Pace, CEO of Jamba, Inc. "The combination of the two brands will offer guests a unique variety and even more reasons to visit for breakfast, lunch, late afternoon snacks, dinner and beyond."
Several other co-branded locations are currently under construction in Massachusetts and Pennsylvania, with plans in the works for additional stores in the pipeline.
About Bruegger's Bagels
Bruegger's Enterprises, Inc. (BEI), a leader in the fast casual restaurant segment, operates 275+ Bruegger's Bagels bakeries in North America. Renowned for its authentic New York-style fresh-baked bagels, the chain also offers a wide variety of freshly prepared breakfast and lunch options made with high-quality, simple ingredients served with its unique brand of hospitality. Bruegger's Bagels is dedicated to the communities it serves and supports charitable causes locally and nationally. BEI's parent company, Groupe Le Duff, SA, is the world's second-largest company in the bakery-cafe sector. Founded in 1983, BEI is headquartered in Dallas. For more information, visit https://www.brueggers.com/, follow Bruegger's on Facebook, Twitter, Instagram and Pinterest, and click here to sign up for the eClub to receive news and special offers.
About Jamba Juice
Jamba, Inc., owns and franchises Jamba Juice stores through its wholly owned subsidiary, Jamba Juice Company. Jamba Juice Company is a leading restaurant retailer of better-for-you, specialty beverage and food offerings, which include great-tasting, whole fruit smoothies, fresh-squeezed juices and juice blends, hot teas and a variety of food items including hot oatmeal, breakfast wraps, sandwiches, Artisan Flatbreads, Energy Bowls, baked goods and snacks. As of Sept. 29, 2015, there were 884 store locations globally. There were 94 company-owned and -operated stores and 720 franchise-operated stores in the United States, and 70 franchise-operated international stores. Jamba Juice Company expanded the Jamba brand by direct selling of consumer packaged goods and licensing its trademarks. CPG products for at-home enjoyment are also available online, through select retailers across the nation and in Jamba outlets in the United States.
Media Contacts
For Bruegger's Bagels
Sara Hundley or Heather Byrd
24-hour Media Line: 817-329-3257
sh@spmcommunications.com
heather@spmcommunications.com
For Jamba Juice:
Mike Fuccillo
Sr. Dir. Corporate Communications
mfuccillo@jambajuice.com
510-596-0100, ext. 7
ICR for Jamba Juice
Alexis Harrison
Alexis.harrison@icrinc.com
203-682-8238

Back to main