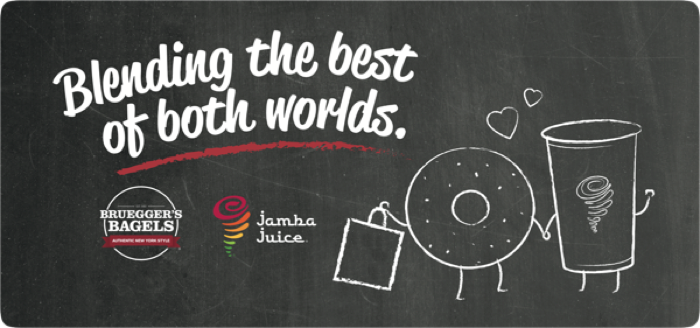 Bruegger's Bagels and Jamba Juice celebrate the opening of a new co-branded location on April 6 at 158-K Great Road in the Bedford Market Place shopping center.
The partnership combines the best of both brands under one roof, allowing guests to enjoy Bruegger's Bagels' fresh-baked bagels, 100 percent made-in-Vermont cream cheese, sandwiches, soups and salads alongside fresh-squeezed juices, signature smoothies and energy bowls from Jamba Juice.
"Our first co-branded location in the Boston area opened just last month and has received an enthusiastic response from the local community," said Bruegger's Bagels President Paul Carolan. "The partnership with Jamba Juice gives our new and long-time customers even more opportunities to enjoy fresh, authentic offerings any time of day."
The new Bruegger's Bagels/Jamba Juice will offer several new menu items, including seasonal cream cheese mix-ins, New York-style coffeecake, Cheesecake Brownies and Greek Yogurt Blueberry Muffins. New coffee offerings include premium Rainforest Alliance Certified coffees, seasonal single-origin pour-over coffees, specialty espresso beverages and organic 20-hour cold brew coffee. The store will be open from 5:30 a.m. to 9 p.m. Monday through Friday and from 6 a.m. to 7 p.m. Saturday and Sunday.
For the grand opening on April 6, members of the Bruegger's Bagels e-club can receive their choice of a free bagel and cream cheese, small espresso specialty coffee, small signature smoothie or small fresh-squeezed juice at the Bedford location. Guests can sign up for the Bruegger's Bagels eClub here.
About Bruegger's Bagels
Bruegger's Enterprises, Inc. (BEI), a leader in the fast casual restaurant segment, operates 275+ Bruegger's Bagels bakeries in North America. Renowned for its authentic New York-style fresh-baked bagels, the chain also offers a wide variety of freshly prepared breakfast and lunch options made with high-quality, simple ingredients served with its unique brand of hospitality. Bruegger's Bagels is dedicated to the communities it serves and supports charitable causes locally and nationally. BEI's parent company, Groupe Le Duff, SA, is the world's second-largest company in the bakery-cafe sector. Founded in 1983, BEI is headquartered in Dallas. For more information, visit https://www.brueggers.com/, follow Bruegger's on Facebook, Twitter, Instagram and Pinterest, and click here to sign up for the eClub to receive news and special offers.
About Jamba
Jamba, Inc., owns and franchises Jamba Juice stores through its wholly-owned subsidiary, Jamba Juice Company. Jamba Juice Company is a leading restaurant retailer of better-for-you, specialty beverage and food offerings, which include great tasting, whole fruit smoothies, fresh-squeezed juices and juice blends, and Energy Bowls. As of Sept. 29, 2015, there were 884 store locations globally. There were 94 company-owned and -operated stores and 720 franchise-operated stores in the United States, and 70 franchise-operated international stores. Jamba Juice Company expanded the Jamba brand by direct selling of consumer packaged goods and licensing its trademarks. CPG products for at-home enjoyment are also available online, through select retailers across the nation and in Jamba outlets in the United States.
Media Contact:
Sara Hundley or Heather Byrd
24-hour Media Line: 817-329-3257
sh@spmcommunications.com
heather@spmcommunications.com

Back to main