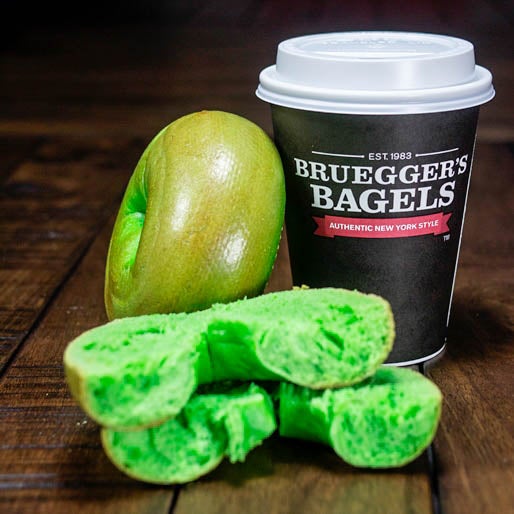 DALLAS (Feb. 27, 2019) – Green bagels have been a St. Patrick's Day tradition at Bruegger's Bagels for more than 20 years, and this year, guests don't have to rely on the luck of the Irish to make sure they get the coveted treat.
Bakeries will begin accepting preorders beginning March 7 for the shamrock-green bagels, available March 15-17 at participating locations.
"We first introduced our St. Paddy's bagels in 1997, and they've become such a huge tradition for our guests that we run out fast," said Bruegger's Bagels President and CEO José Dueñas. "This year, we're giving guests a chance to preorder early, and we're offering green bagels for an extra day so people can be sure to have them for their celebrations at school, work or home."
Also beginning March 7, guests can claim an offer at Brueggers.com for $2 off a Big Bagel Bundle, which includes 13 bagels, green or otherwise, plus two tubs of cream cheese. The coupon can be redeemed March 15-17 at participating locations. Availability of green bagels will be limited, so preorders are recommended.
Bruegger's famous green bagels are prepared in the authentic, New York-style, first kettle-boiled and then baked to perfection in small batches throughout the day to ensure freshness.
For location contact information and hours, visit www.brueggers.com.
About Bruegger's Bagels
Bruegger's Bagels is part of the Coffee & Bagel Brands family, a leading quick-casual company that includes Caribou Coffee®. Founded in 1983, Bruegger's Enterprises, Inc. (BEI) operates over 220 Bruegger's Bagels bakeries in North America. Renowned for its authentic, New York-style kettle-boiled and stone hearth-baked bagels made with only five simple ingredients, Bruegger's also offers a wide variety of freshly prepared breakfast sandwiches available all day, 100 percent made-in-Vermont cream cheeses, lunch sandwiches, salads, soups and custom-roasted coffees. For more information, follow Bruegger's Bagels on Facebook, Twitter and Instagram, and join the Inner Circle at brueggers.com to receive news and special offers.
Media Contacts:
Sara Hundley or Kristen Kauffman
24-hour Media Line: 817-329-3257
sh@spmcommunications.com
kristen@spmcommunications.com

Back to main