DALLAS (September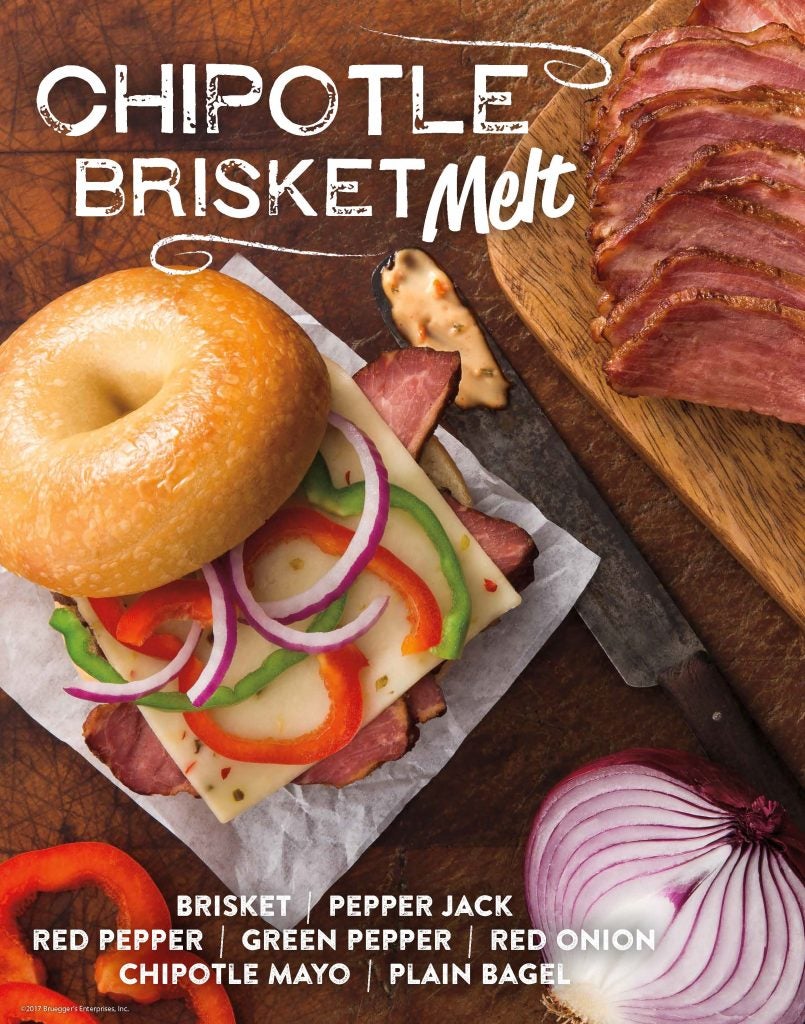 13, 2017) – Bruegger's Bagels, known for its authentic New York-style bagels and signature egg sandwiches, has launched its new seasonal menu featuring the rich flavors of fall in new and returning items.
Old world flavors of brisket and pastrami meet the new world bagel sandwich on the Smoky Brisket & Pastrami Egg Sandwich, made with a seasoned fresh-cracked egg, sliced brisket and pastrami, cheddar cheese and chipotle aioli on a toasted Everything bagel. For lunch, the new Chipotle Brisket Melt pairs sliced brisket, pepper jack cheese, red and green peppers, red onions, and chipotle mayo on a toasted Plain Bagel for a delicious twist on smokehouse flavors and textures.
One of the fall's most popular flavors, pumpkin, takes center stage as Bruegger's Bagels brings back its classic Pumpkin Bagel, Pumpkin Cream Cheese, and  beloved seasonal coffee, Pumpkin Spice, made with the flavors of cinnamon, nutmeg and other spices, available through Thanksgiving. After Thanksgiving, the Cranberry Orange Bagel replaces the Pumpkin Bagel in the line-up.
"As the days finally grow cooler, our seasonal menu celebrates all the savory goodness of fall," said Bruegger's Bagels Vice President of Marketing Judy Kadylak. "From smoky brisket to pumpkin, nutmeg and cinnamon, the flavors capture the enjoyment of a crisp day, the changing leaves and a chill in the air."
The fall menu will be available starting September 13 at participating Bruegger's Bagels locations.
About Bruegger's Enterprises, Inc.
Bruegger's Enterprises, Inc. (BEI), a leader in the fast casual restaurant segment, operates over 260 Bruegger's Bagels bakeries in North America. Renowned for its authentic fresh-baked bagels, the chain also offers a wide variety of freshly prepared breakfast and lunch options made with high-quality, simple ingredients served with its unique brand of hospitality. Bruegger's Bagels is dedicated to the communities it serves and supports charitable causes locally and nationally. BEI's parent company, Groupe Le Duff, SA, is the world's second-largest company in the bakery-cafe sector. Founded in 1983, BEI is headquartered in Dallas. For more information, visit https://www.brueggers.com/, follow Bruegger's Bagels on Facebook, Twitter, Instagram and Pinterest, and sign up for the eClub to receive news and special offers.
###
Media Contacts:
Sara Hundley
Lindsey Smith
24-hour Media Line: 817-329-3257
sh@spmcommunications.com
lindsey@spmcommunications.com

Back to main