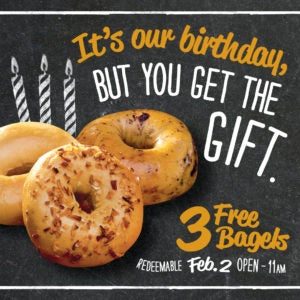 Bruegger's Bagels, known for its fresh-baked, authentic New York-style bagels, signature egg sandwiches and artisanal coffees, will officially celebrate 34 years of handcrafting bagels with a tribute to its heritage and loyal guests. On Feb. 2 from open until 11 a.m., guests at any of Bruegger's Bagels' location can present a coupon to be treated to three free bagels.
"We take great pride in our authentic bagels that have been the cornerstone of our company since the beginning," said Bruegger's Bagels Vice President of Marketing Judy Kadylak. "This free bagel offer is our way of saying thanks to our loyal fans across the country."
Though Bruegger's Bagels has expanded its menu to include a variety of breakfast and lunch sandwiches, soups and salads, it still follows the same bagel recipe developed in 1983, using just five core ingredients: flour, water, malt, yeast and salt. True to tradition, its bagels are kettle-boiled and baked in stone hearth ovens in small batches throughout the day.
A coupon for the three free bagels is available here.
About Bruegger's Enterprises, Inc.
Bruegger's Enterprises, Inc. (BEI), a leader in the fast casual restaurant segment, operates 268 Bruegger's Bagels bakeries in North America. Renowned for its authentic fresh-baked bagels, the chain also offers a wide variety of freshly prepared breakfast and lunch options made with high-quality, simple ingredients served with its unique brand of hospitality. Bruegger's Bagels is dedicated to the communities it serves and supports charitable causes locally and nationally. BEI's parent company, Groupe Le Duff, SA, is the world's second-largest company in the bakery-cafe sector. Founded in 1983, BEI is headquartered in Dallas. For more information, visit https://www.brueggers.com/, follow Bruegger's Bagels on Facebook, Twitter, Instagram and Pinterest, and sign up for the eClub to receive news and special offers.
Media Contacts:
Sara Hundley
Allison Mynard
24-hour Media Line: 817-329-3257
sh@spmcommunications.com
allisonm@spmcommunications.com

Back to main