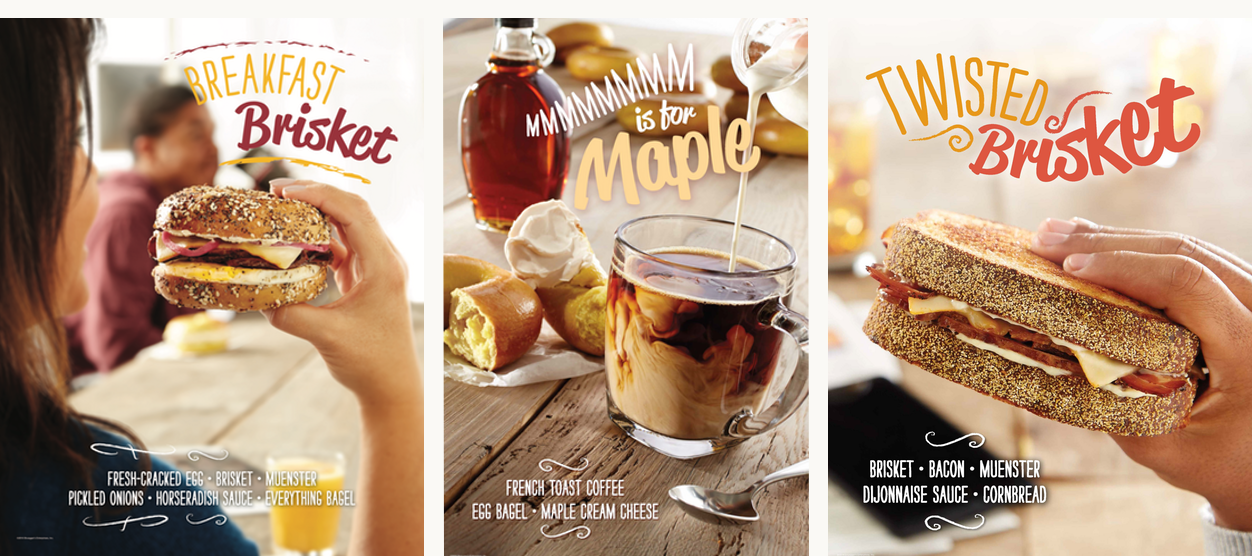 Bruegger's Bagels, known for its freshly baked, authentic New York-style bagels, signature egg sandwiches and coffees, brings a deli classic to its winter menu with the addition of tender, slow-smoked brisket, available  for breakfast or lunch.
Bruegger's Bagels' brisket is spice-rubbed then smoked over hardwood for up to 16 hours. Guests can enjoy it in the Breakfast Brisket, a combination of tender brisket and fresh-cracked egg, paired with Muenster cheese, pickled onions and creamy horseradish sauce on a toasted Everything Bagel. Or they can opt for a modern version of a traditional lunch sandwich with the Twisted Brisket, featuring crispy bacon, Muenster cheese and Dijonnaise sauce on buttery toasted jalapeno cornbread.
"Our brisket is a flavorful, classic deli addition to the menu that guests can enjoy in a hearty winter breakfast or lunch," said Bruegger's Bagels Vice President of Marketing Judy Kadylak. "We're also bringing back seasonal favorites, like our French Toast coffee, which our guests always look forward to this time of year."
In addition to the French Toast coffee, with the comforting aroma and flavors of freshly prepared French toast and a touch of cinnamon and maple syrup, Bruegger's Bagels also brings back its Maple cream cheese, which mixes pure Vermont maple syrup with Bruegger's Bagels' made-in-Vermont cream cheese.
Also returning is the Egg Bagel, a bagel shop standard that has alwayshad a vocal following among Bruegger's Bagels customers. It pairs perfectly with the Maple cream cheese or any of Bruegger's Bagels' 15+ cream cheese flavors, or serves as a delicious base for any Bagel Sandwich.
The winter menu is available now throughout the beginning of April, or while supplies last.
About Bruegger's Enterprises, Inc.
Bruegger's Enterprises, Inc. (BEI), a leader in the fast-casual restaurant segment, operates 290 Bruegger's Bagels bakeries in North America. Renowned for its authentic fresh-baked bagels, the chain also offers a wide variety of freshly prepared breakfast and lunch options made with high-quality, simple ingredients served with its unique brand of hospitality. Bruegger's Bagels is dedicated to the communities it serves and supports charitable causes locally and nationally. BEI's parent company, Groupe Le Duff, SA, is the world's second-largest company in the bakery-cafe sector. Founded in 1983, BEI is headquartered in Dallas. For more information, visit https://www.brueggers.com/, follow Bruegger's on Facebook, Twitter, Instagram and Pinterest, and click here to sign up for the eClub to receive news and special offers.
Media Contact:
Jeannine Brew/Sara Hundley
SPM Communications
214-379-7000

Back to main