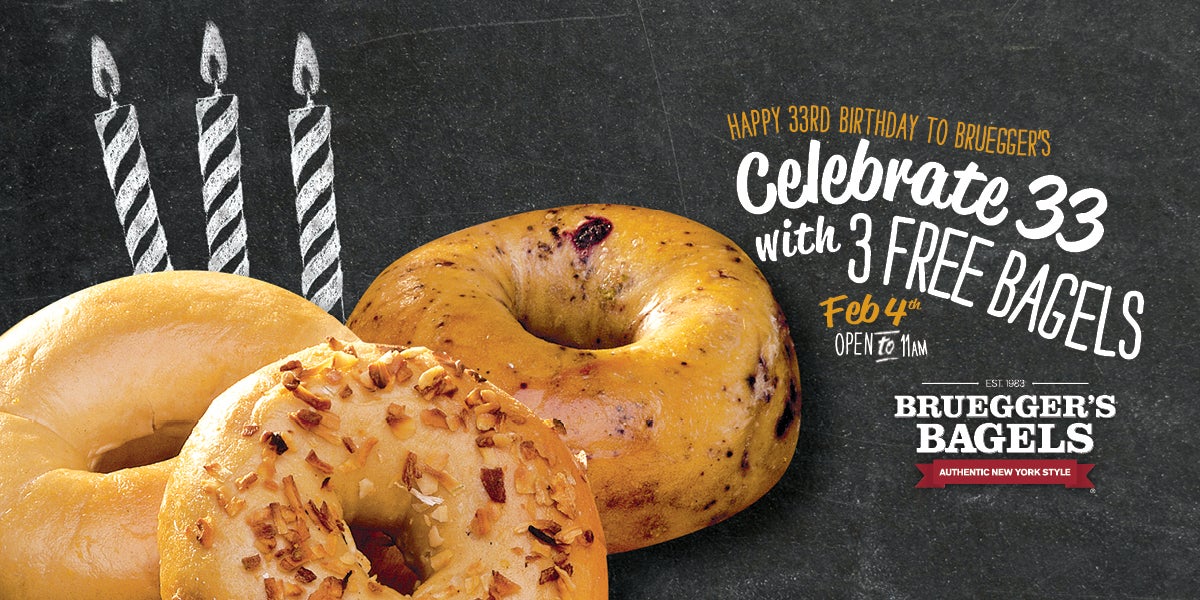 Bruegger's Bagels celebrates its 33rd birthday on Thursday, Feb. 4, with its annual Three Free Bagel giveaway for each guest who brings a coupon to any one of Bruegger's 290+ bakeries from open to 11a.m.
Since opening its doors, Bruegger's Bagels has baked authentic New York-style bagels at every location in small batches throughout each day using an original recipe with just five simple, wholesome ingredients.
"Our annual Three Free Bagel Day is our way of thanking guests for their loyalty over the past 33 years," said Bruegger's Bagels Vice President of Marketing Judy Kadylak. "Though we've expanded our menu to offer sandwiches, salads and more, the bagel is where it all started and we want to share it with everyone on our special day."
Guests may obtain the coupon by visiting www.brueggers.com and can choose from any of Bruegger's Bagels 15+ varieties for their three free bagels.
About Bruegger's Bagels
Bruegger's Enterprises, Inc. (BEI), a leader in the fast casual restaurant segment, operates 275+ Bruegger's Bagels bakeries in North America. Renowned for its authentic New York-style fresh-baked bagels, the chain also offers a wide variety of freshly prepared breakfast and lunch options made with high-quality, simple ingredients served with its unique brand of hospitality. Bruegger's Bagels is dedicated to the communities it serves and supports charitable causes locally and nationally. BEI's parent company, Groupe Le Duff, SA, is the world's second-largest company in the bakery-cafe sector. Founded in 1983, BEI is headquartered in Dallas. For more information, visit https://www.brueggers.com/, follow Bruegger's on Facebook, Twitter, Instagram and Pinterest, and click here to sign up for the eClub to receive news and special offers.
Media Contact:
Heather Byrd /Sara Hundley SPM Communications, 214-379-7000
heather@spmcommunications.com /sh@spmcommunications.com

Back to main